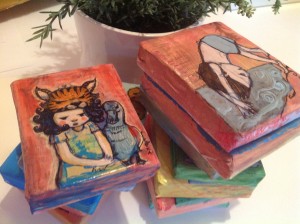 Intro:
I really want my work to be objects of beauty. My original pieces are created using recycled cardstock as a platform or canvas.
Thought process:
I love cute oddities, quirky and the surreal. I start with a pretty character and build a quirky story that leads to a surreal environment and then return to my character with fresh eyes. The process begins again, till I am happy with the result. I am always careful because I don't like to over work the piece. Sometimes simple is the very best.
My main characters or little stars:
They are brave little ones, they are courageous, they are intelligent and nothing phases them. They are full of life and know a large part of who they are already and were they want to end up. They won't be bullied or hemmed in. They believe in their dreams. They respect others and want others to flourish. They love their family, animals and the planets.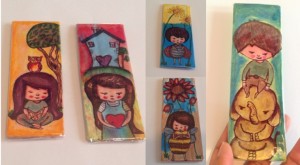 Bookmarks:
Why originals? Why not originals? Bookmarks weren't always so throw away, and I have decided to take mine back to the unique status they should have. Look at my bookmarks as the adverts in between a movie if you will, they give opportunity to remind you to buy that delicious ice cream you have been dreaming of getting…
My bookmarks are pieces of original art, they can be touched, stroked, a personal treasure to each buyer. The avid book reader will enjoy them as much as their books. Each bookmark has a story or narrative running through them. They make delicious gifts for any young reader who is just starting to read. These beautiful bookmarks can also be framed, as mini originals.
Original Paintings:
These are made using recycled cardstock, they are thickened into extra layers using a technique I have created that strengthens the platform, for painting on. The layers are varnished as more paint and working is applied. The back is prepped for hanging on its own if required or it can be displayed in a frame. Some pieces require box frames.
Thank you for visiting. Stay blessed.