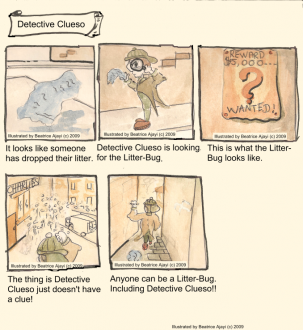 This is my first ever sketch of a comic on my site. It is called 'Detective Clueso and the Mystery of the Litter-Bug'. I did this a while ago, when I rediscovered it in my boxes of artwork it still made me giggle.
I am thinking I will do another at the start of next month. So stay tuned. It will keep me producing new work, at least that is my aim.
I still have some new images to add in the gallery, it will all happen at some point.
On saturday the 29th August, I was part of the 'Art Market' on Byres Road at Hillhead Library. It was a good experience. Being my first time there I met alot of friendly people.
I would like to do it again definately. I will let you know when I am there next.
Have a great day.