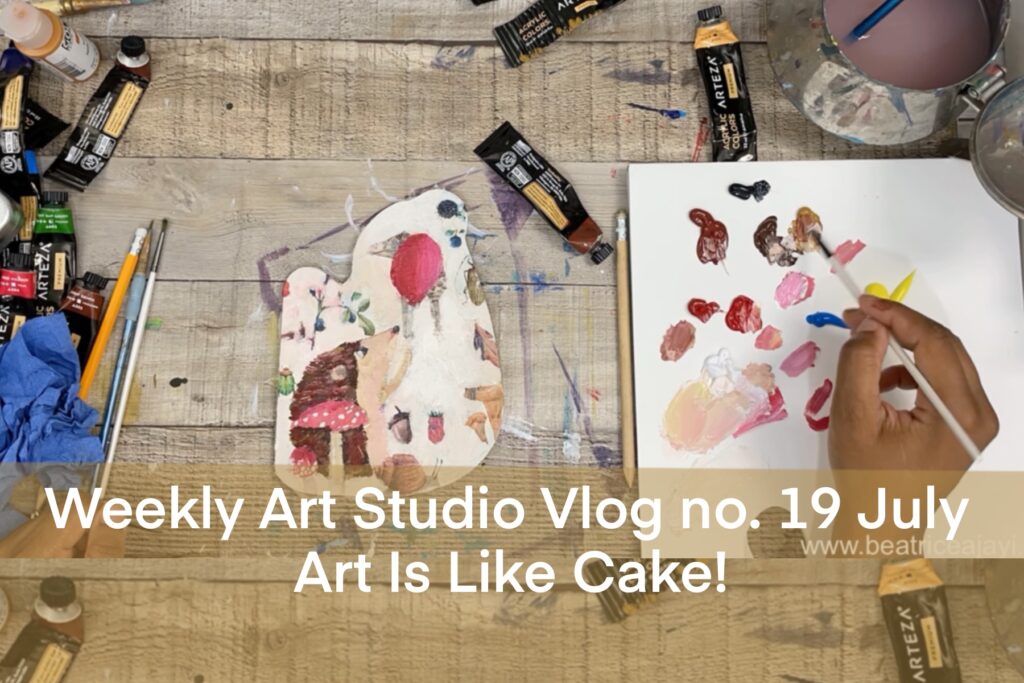 Weekly Artist Art Vlog no.19 | Art is Like Cake | Artist Studio Practice | Artwork | #youtube
Hi and welcome to my website Blog .
If you have not been here on my site before, hello, it's awesome to meet you.
My name is Beatrice Ajayi. I am an artist, creative, illustrator and published author. I love to use a range of mediums in my artwork.
You will find me working on a range of pieces both digitally and traditionally.
In this video today I am – sharing my latest thoughts and perceptions on myself and my art, an introspective if you will. I have decide my new working title is 'Multidisciplinary Artist'. I have used this as a job desk in the past and my biography language. But I have realised more and more that it is a more true title of my approach as an artist.
I am currently in the process of decluttering my studio ( a constant issue) I am trying to reimagine art and products I created years ago and asking if they have a place in my life.
This has led to my discussion in the video I have for you today. i am conscious of the pressure to give my best, I therefore am trying to make sure i am feeding my creative tank with new inspiration and have decided on a path to follow. The path of eating as much came as possible ( or to paraphrase, to create as much art as I am inspired to, through the process of storytelling)
As a creative and maker being able to generate work that you love and can elate others needs some investment and i want to be able to bring that into my process. I use a lot of processes. I try out something and if it doesn't work I reimagine it and give it new life. Thank you for reading this far if you have. Please do subscribe, so that more people can see these videos and we can all feed our creativity together through our interactions.
Link here to watch my Vlog on YouTube: https://youtu.be/qpEq_31nTds
***I now have downloadable artscapes on my website and also just launched my first ever online tutorial class on my website based in my recent superheros series. Check link here👉 https://beatriceajayi.com/product-category/downloadable-art/ to purchase.
Please feel free to comment and ask me questions. I am always happy to share about art discussions and share tips.
WHERE to SHOP MY ART 👇
🛍️Website: https://beatriceajayi.com/
👇Downloadable Art for purchase :https://beatriceajayi.com/product-category/downloadable-art/
🎥 Online Art Tutorials for purchase:https://beatriceajayi.com/product-category/online-tutorials/
🎨You get a month free to try out the range of other tutorials and classes available on skillshare. Affiliate Link:https://www.skillshare.com/en/r/user/beatrice?gr_tch_ref=on&gr_trp=on
🎥You can find me on Patreon here:https://www.patreon.com/BeatriceAjayi. I am working in making my tiers easier to work through.
📕My Crime fiction Book 'Origins | The Scarecrow Murders Trilogy'. First instalment two more books to come. All comments welcome here.
I will see you in the next blog speak to you soon and stay safe. B